Serviced Apartments in Zurich
from 28 nights from 49,00 € per night
1 - 14 nights from 61,00 € per night
from 30 nights from 75,70 € per night
3 - 29 nights from 98,52 € per night
from 30 nights from 110,96 € per night
3 - 29 nights from 145,18 € per night
Zurich is located in the economic area "Greater Zurich Area", where a high quality of life and the low tax rates have led some international corporations to choose Zurich as their headquarters. The city also has the third highest millionaire density in the world after Monaco and Geneva. The strongest sector of the economy is the service sector, which employs almost 90 % of Zurich's workforce. The city's most important economic sector is the financial services sector, with its centre at Paradeplatz.
Numerous credit institutions are headquartered in Zurich, as are many smaller banks and foreign banks. The largest employers include Deloitte, Accenture, Google, PwC, EY, of course UBS and Credit Suisse, KPMG, Cognizant Technology Solutions, Microsoft and SAP. Swiss Re and Swiss Life also have their headquarters in Zurich. Last but not least, the SIX Swiss Exchange, one of the world's leading technology exchanges, is also an important part of the financial market. Zurich is increasingly establishing itself as a tech location.
Those who live in the city on Lake Zurich can consider themselves lucky: Stunning architecture, beautiful nature and fantastic food - with our serviced apartments in Zurich, you can experience the city's lifestyle. Our apartments offer the perfect retreat for working from home or relaxing after a day at work. Book one of our furnished apartments for your next business trip and let yourself be enchanted by the individual furnishings and charm of Zurich.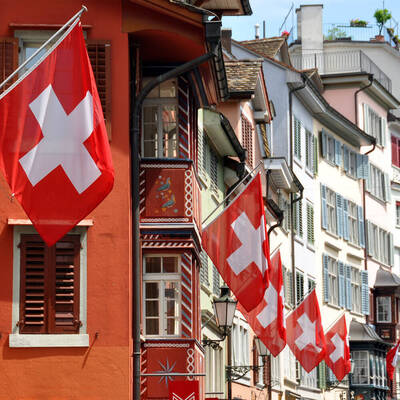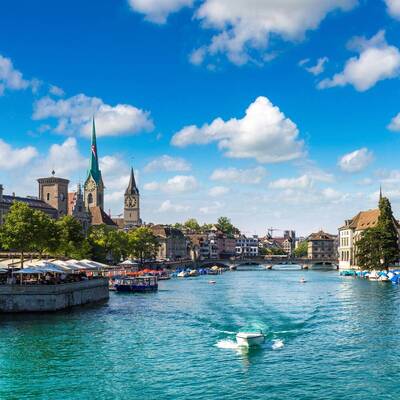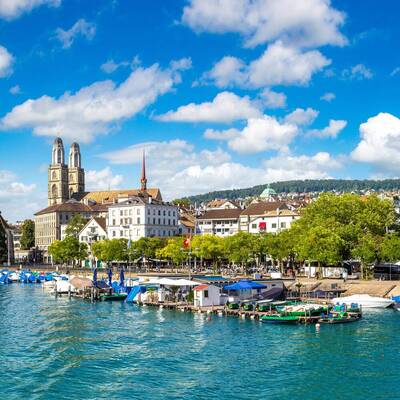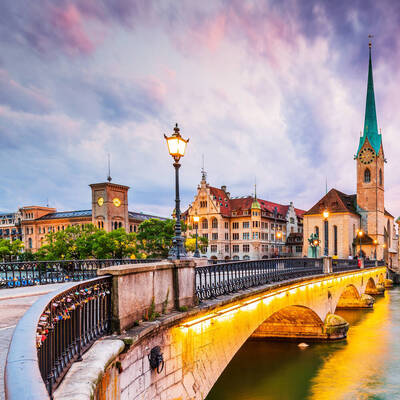 Living in Zurich
Located in the north of Switzerland and at the northern tip of Lake Zurich, the city stretches on both sides of the Limmat River. The streets of the historic old town recall the city's pre-medieval history. The waterfront promenades and Limmatquai run along the river to the 17th-century town hall. At Bürkliplatz, the breathtaking panorama of the Alps opens up above Lake Zurich. It is said of Lake Zurich that you have not been to Zurich if you have not seen it. In Zurich-West, an industrial district is developing into a hip trendy quarter with design, culinary delights and nightlife. So Zurich is a place to live and to work - also on a temporary basis, in a serviced apartment, as a workation, remote work or forever.
Art & culture in Zurich
According to all female Apartmentservice employees, the "place to be" in Zurich is definitely the chocolate museum "Lindt Home of Chocolate" in Kilchberg. Going on a chocolate tour, making your own chocolate, snacking at the chocolate fountain... delightful! But of course, Zurich offers much more. At the top of the list for city visitors are the Old Town and Lake Zurich. The Grossmünster as the landmark of the city of Zurich and the Frauenmünster opposite with the famous stained glass windows by Marc Chagall and Augusto Giacometti are two of the most important sights of the city.
Recipe tip - Bircher Muesli
Zurich ragout mit Rösti, Luxemburgerli und Bircher Müsli sind beliebte Spezialitäten der Züricher Küche, die neben typisch Schweizer und internationalen Gerichten in den Restaurants und Cafés in der Stadt an der Limmat zu genießen sind. Im Serviced Apartment bietet es sich an, den Tag mit einem in der eigenen Küche hergestellten "Birchermüesli" in den Tag zu starten. Hier geht es zum Rezept:
Zutaten für 4 Portionen:
Zurich ragout with Swiss hash browns, Luxemburgerli and Bircher Muesli are popular specialties of Zurich cuisine, which can be enjoyed alongside typical Swiss and international dishes in the restaurants and cafés in the city on the Limmat. In the serviced apartment, it is a good idea to start the day with a "Bircher muesli" made in your own kitchen. Click here for the recipe:
Ingredients for 4 servings:
250 g oat flakes
350 ml milk
50 g raisins
50 g chopped almonds
2 tablespoons sugar or honey
2 medium apples
some lemon juice to taste