Serviced Apartments in Dusseldorf
"If only you had stayed in Dusseldorf..." the hit song from back then still applies today. Only with a positive connotation. Dusseldorf is a city that you not only have to see, but experience. "Wat et nit all jöwt!" If you want to understand Dusseldorf Platt, you have to have a lot of imagination to begin with. But we guarantee one thing: We'll be happy to show you "what there is" when it comes to serviced apartments in Dusseldorf.
Dusseldorf is home to numerous large companies such as Metro, Henkel, Peek & Cloppenburg or Adecco. More than 500,000 companies are located within a 50-kilometer radius of Dusseldorf. The city thus offers the greatest B2B potential in Europe. The largest Japanese business community in Europe was established in Dusseldorf after the Second World War. The city is also home to major financial institutions and advertising agencies. However, Dusseldorf has other significant flagships: Art, culture, music and top-class restaurants enrich life. A special destination is the Rheinuferpromenade with its great view of the river Rhine.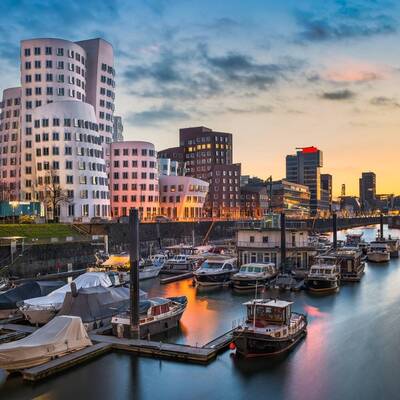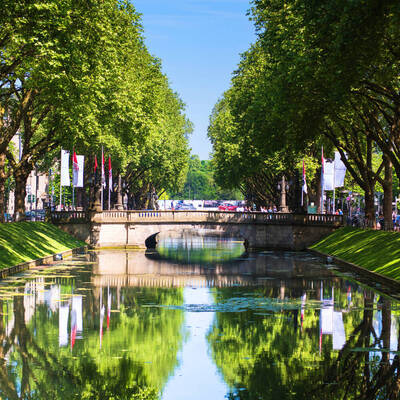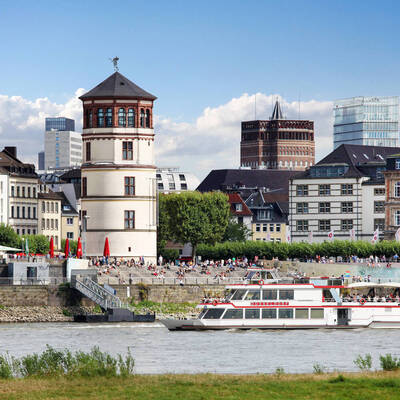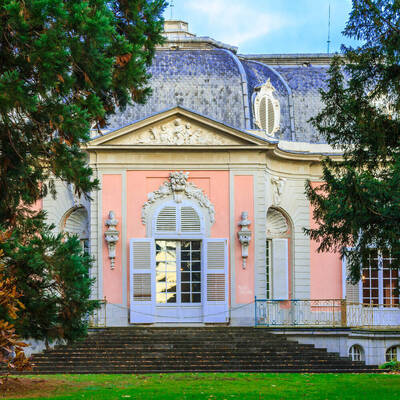 Living in Düsseldorf
Wenn Sie einen längeren Aufenthalt in Düsseldorf planen, aber keine eigene Wohnung anmieten möchten und Hotels langfristig zu teuer sind, dann bieten unsere Serviced Apartments die richtige Lösung für Sie. Ob Studio oder 2-Zimmer-Apartment, ob direkt im Stadtzentrum oder in der Nähe des Messegeländes, in unserem Buchungsportal finden Sie für jeden Fall die perfekte möblierte Wohnung auf Zeit! Gut zu wissen: Apartmentservice ist keine private Zimmervermittlung, sondern bietet in seinem Portfolio ausschließlich gewerblich betriebene Serviced Apartments an. Diese wählen wir sorgfältig aus, um unseren Gästen einen entspannten Aufenthalt zu gewährleisten. Die Serviced Apartments in Düsseldorf befinden sich vorwiegend in und um die Altstadt, aber auch in Messenähe und in Meerbusch.
If you are planning a longer stay in Dusseldorf, but do not want to rent your own flat and hotels are too expensive in the long term, then our serviced apartments offer the right solution for you. Whether studio or 1-bedroom apartment, whether directly in the city centre or near the exhibition grounds, on our booking platform you will find the perfect temporary furnished apartment for every case! Good to know: Apartmentservice is not a private accommodation agency, but offers in its portfolio exclusively commercially operated serviced apartments. We select these carefully to ensure a relaxed stay for our guests. The serviced apartments in Dusseldorf are mainly located in and around the Old Town, but also near the exhibition centre and in Meerbusch.
Art & culture in Dusseldorf
Für Kunst- und Kulturbegeisterte ist Düsseldorf eine inspirierende Stadt zum Wohnen. Die Kunstakademie Düsseldorf ist unter anderem verbunden mit Namen wie Joseph Beuys, Gerhard Richter, Andreas Gursky, Bernd und Hilla Becher. Auch Düsseldorf selbst hat sich in den letzten Jahren zu einem bedeutenden Zentrum moderner Kunst entwickelt. Zahlreiche Galerien, Museen und Sammlungen wie die Julia Stoschek Collection tragen dazu bei. Die ist eine Theatergemeinschaft der Städte Düsseldorf und Duisburg, die neben Oper und Musical auch Ballett darbietet und über das größte Ensemble einer Oper in Deutschland verfügt.
For art and culture enthusiasts, Dusseldorf is an inspiring city to live in. The Dusseldorf Art Academy is associated with names such as Joseph Beuys, Gerhard Richter, Andreas Gursky, Bernd and Hilla Becher, among others. Dusseldorf itself has also developed into an important centre of modern art in recent years. Numerous galleries, museums and collections such as the Julia Stoschek Collection contribute to this. The Deutsche Oper am Rhein (German Opera on the Rhine) is a theatre community of the cities of Dusseldorf and Duisburg that presents ballet as well as opera and musicals and has the largest ensemble of any opera in Germany.
Places to visit in and around Dusseldorf
Especially important for all those who live in Dusseldorf for a longer period of time: More than 260 pubs and restaurants in the many narrow streets of the historic old town exemplify lively togetherness. One of the absolute highlights is a visit to the traditional Altbier breweries, e.g. Uerige, Füchschen, Schumacher or Schlüssel.
The Rhine Tower is a prominent landmark of the city and dominates the skyline of Dusseldorf with its height of 234 meters. The TV tower is located not far from the state parliament of North Rhine-Westphalia and the MedienHafen.