Serviced Apartments in Bremen
As a northern German Hanseatic city, Bremen is known for its traditional role in shipping. The city of Bremerhaven's overseas port area is an exclave of the city on the river Weser. Numerous large and also internationally active companies have their headquarters or a branch office in Bremen. In particular, the major companies Airbus and Daimler with other suppliers and subsidiaries are important employers and shape the economic structure of the city.
Together with numerous universities and renowned research institutes, Bremen is developing into a high-tech and research location and is now part of the European Metropolitan Region Northwest. As a trade fair location, Bremen hosts, among others, the logistics trade fair Break Bulk Europe or the Hanselife adventure fair.
Due to the structure and fields of activity of the companies as well as the institutes, temporary living in Bremen is especially interesting for business travellers. Bremen offers a variety of hotels and other accommodation. Those who stay in the city for years may be able to rent a flat. Project workers, expatriates and new hires can find serviced apartments for their long-term stay in Bremen.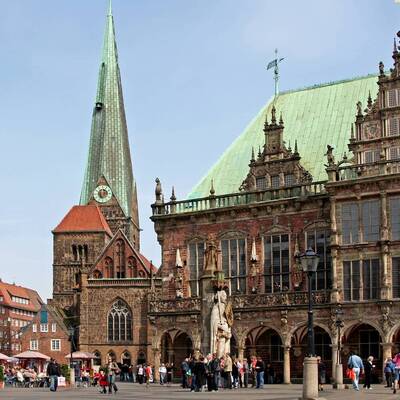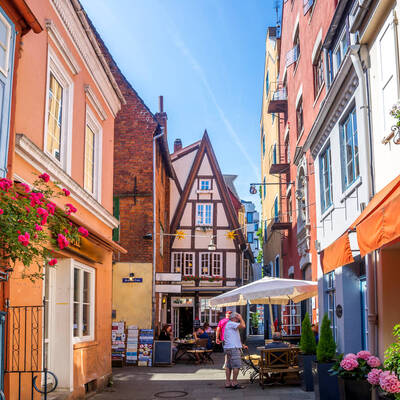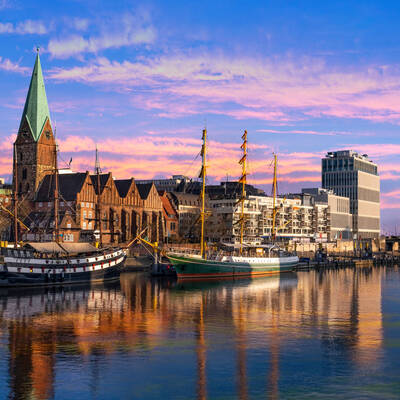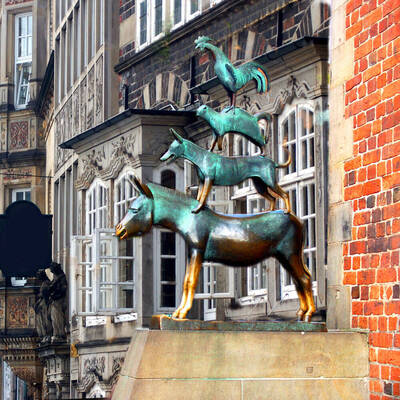 Living in Bremen
The influence of the maritime economy is also reflected in the Hanseatic buildings. On the market square, the magnificent Gothic town hall shines with its Renaissance facade. Nearby, Roland, a large stone figure symbolising freedom of trade, is enthroned. Both buildings are UNESCO World Heritage Sites. In the Schnoorviertel, Bremen's oldest quarter, small houses from the 15th and 16th centuries are lined up like pearls on a string.
Art & culture in Bremen
Neben den genannten Sehenswürdigkeiten der Altstadt sind die Böttcherstraße, die Kunsthalle Bremen, das Überseemuseum, der Bremer Freimarkt und der Rhododendron-Park Bremen weitere Anziehungspunkte der Stadt. Kulinarisch bietet die Hansestadt auch einiges: Handgemachtes, Hochprozentiges, Süßes und Außergewöhnliches. Kaffee, Tee und Bier haben eine lange Tradition an der Weser. Viele Restaurants, Cafés, Kneipen und Manufakturen laden zum Genießen und Verweilen ein.
In addition to the aforementioned sights of the old town, the Böttcherstraße, the Kunsthalle Bremen, the overseas's museum, the Bremer Freimarkt and the Rhododendron Park Bremen are further attractions of the city. From a culinary point of view, the Hanseatic city also has a lot to offer: handmade, high-proof, sweet and unusual. Coffee, tea and beer have a long tradition on the Weser. Many restaurants, cafés, pubs and manufactories invite you to enjoy and linger.
Places to visit in and around Bremen
Bremen's tourist office offers many guided tours of the city. But there is also much to discover in the surrounding countryside. Moorlands, fish ponds, primeval forests and nature reserves lie at the gates of the city and can be explored on an extensive hike or by bike. The town centre of Fischerhude, an artists' community about 20 km from Bremen, delights visitors with its almost completely intact traditional building fabric.