Serviced Apartments in Cologne
Send reservation request for these properties:
JOYN Cologne
Venloer Straße 241-245, 50823 Cologne, Germany
studio
22-42 m2 | max. 2 guests
from 28 nights from 47,00 € per night
1 - 27 nights from 89,00 € per night
---
In the Middle Ages, Cologne became an important ecclesiastical and an important artistic and educational centre. Cologne Cathedral houses the shrine of the Three Kings, said to contain the relics of the Magi, hence the three crowns in the city's coat of arms. Cologne Cathedral - declared a UNESCO World Heritage Site in 1996 - is the city's landmark and serves as an unofficial symbol. Cologne was severely destroyed in World War II, afterwards restored and rebuilt. Today, the city is a cultural metropolis with many important museums, galleries and art fairs, as well as a vibrant music scene.
Cologne is on the verge of becoming a world metropolis and the city's forward-looking industry is attracting more and more companies to the Rhine. Our serviced apartments offer the opportunity for a private retreat in Cologne's city centre and a modern workplace at the same time. In addition, our apartments are individually furnished and have modern equipment. Let our serviced apartments convince you and enjoy your next stay in Cologne.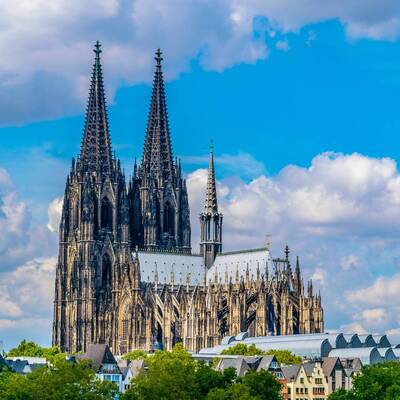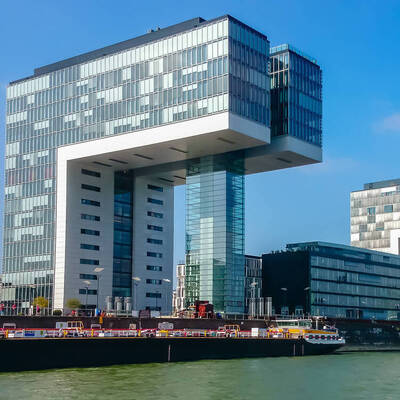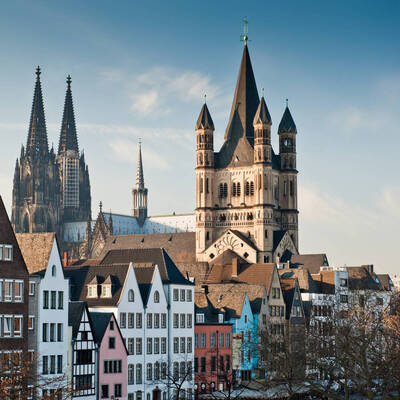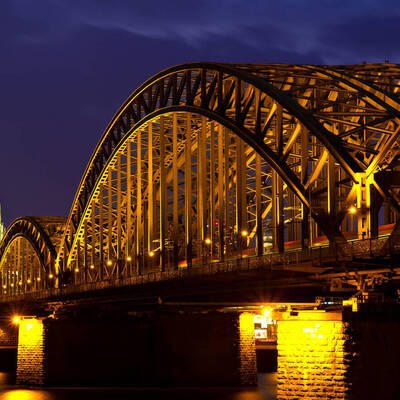 Living in Cologne
In 2012, after lengthy preparations, the Academy of the Arts of the World was founded with city funds. Initially operating virtually and collaborating with local institutions and initiatives, it appoints internationally renowned artists as members who can then realise their projects in Cologne. In addition to its cultural significance, Cologne is also an important business location. Companies such as the Rewe Group, Ford plant, the University of Cologne, Bayer, RWE, Deutsche Bahn and Lanxess AG have their headquarters in Cologne, attracting thousands of employees to the city on the Rhine.
Art & culture in Cologne
Thriving culture meets historic charm: With its rich history, Cologne is a popular destination for tourists from all over the world. In addition to the famous sights such as the Cologne Cathedral or Phantasialand, Cologne impresses with a variety of cultural offerings. For those interested in history, Cologne's old town has a lot to offer. The twelve Romanesque churches, the Hahnentorburg or the cathedral treasury invite to relaxed visits.
Places to visit in and around Cologne
If you've had enough of working in the big city or just want to get out into nature, you'll find some of the most beautiful spots of nature that North Rhine-Westphalia has to offer in the area around Cologne. With the Wahner Heide and the Königsforst, there are two beautiful nature reserves right at the gates of Cologne that invite you to relax and go hiking. Those who are more drawn to the water will be happy at the Dhünntalsperre. Due to the sheer size of Germany's second largest drinking water dam, you can really switch off here.